World Aids Day
1st December 2019
HAFT were invited to attend the World Aids Day conference held in the Kichwaamba sub-county of the Kabarole District, Uganda on 1st December. 
The theme of the day was "Community Making A Difference".
All district leaders were at the conference and many local health organisations were represented.  The Assistant Health Director for Western Uganda was also in attendance.
 The District Health Officer, Dr Solomon, gave the keynote speech on the theme "Engaging Young People in Fighting HIV", and he shared the latest statistics on the prevalence of HIV/AIDs in the local area. He said there are over 250,000 people with HIV in the district, yet only 26 health centres that currently provide HIV medication. Adolescent girls and young women are currently most at risk of contracting HIV, but the whole population has affected both men and women, adults and children.
There are many people who don't take part in HIV testing,  particularly men, so don't know their HIV status.  Many young people drop out of treatment programs,  and some conceal their HIV status for fear of being stigmatised.
He thanked NGO's and other health-related organisations for their efforts to try to combat the rise of HIV.
The guest of honour was Mr Rwabuhinganga Richard Abooki,  the chairperson of District LC5.  He thanked the Ministry of Health for their work to eliminate HIV and their ambitious program "HIV Free Uganda by 2030".
 He also thanked the young people who spoke at the conference and shared their experiences of living with HIV.
The HAFT team were given the opportunity to speak at the conference and to tell of their work.  They were thanked and asked if they could extend their services to other communities.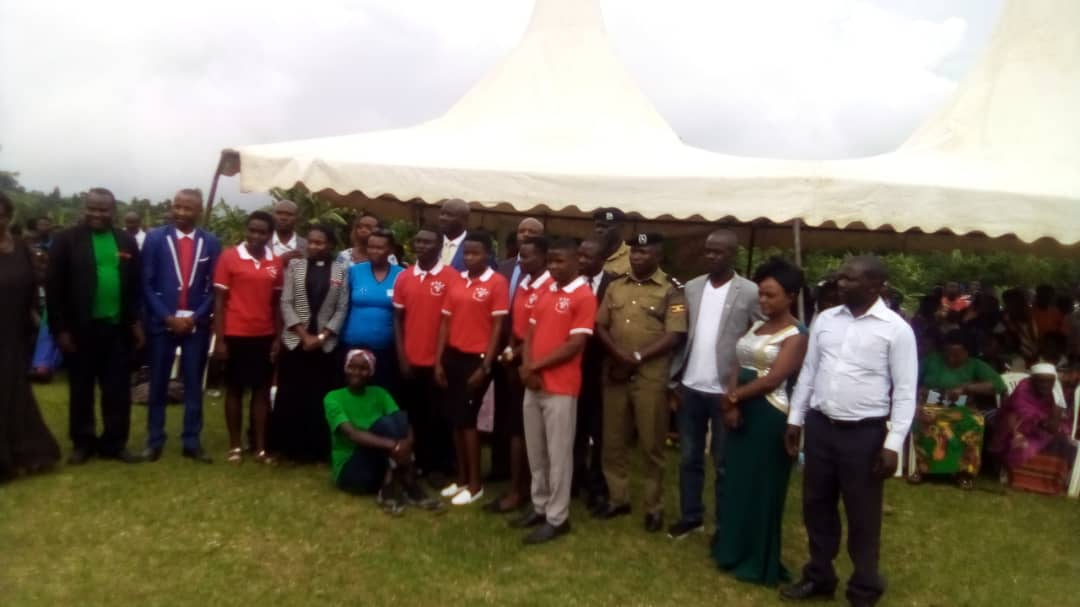 HAFT would like to undertake HIV testing as part of their ongoing health outreach work in rural communities, and offer support to anyone who tests positive and direct them to relevant health clinics and other support networks.  The cost of HIV testing is 150,000 Ugandan Shillings for a kit that will test 100 people, or 1,500 U/Sh per person (that is approx. 40p/UK,  $ 0.40/US,  €0.40 EU per person).  But even this small cost is prohibitive in many villages. HAFT hope to raise some funds so that they can offer this service free of charge.
A presentation delivered to the World Aids Day Conference
by Tumuhimbise Rauben (HAFT Co-ordinator)
He explained that HAFT was a charitable organisation founded in 2017 by a group of student nurses at Fort Portal International Nursing School (FINS).
Their aim is to improve the health of rural communities, where hygiene, sanitation and living conditions are very poor, and to prevent disease through a program of practical help, support and education.
He described some of the health awareness activities that HAFT have recently carried out in schools, churches, village meetings and on the radio.
He acknowledged that there has been an increase in the prevalence of HIV among young people in the local district, consequently, HAFT aims to increase its activities among young people to spread the message about HIV prevention, detection and treatment to this age group. 
He stated that HAFT will endeavour to work with communities, other health organisations and NGO's, and the Ministry of Health in the campaign to achieve
"HIV Free Uganda by 2030".
He thanked all those who are working to fight the spread of HIV and improve the health and lives of the people of Uganda.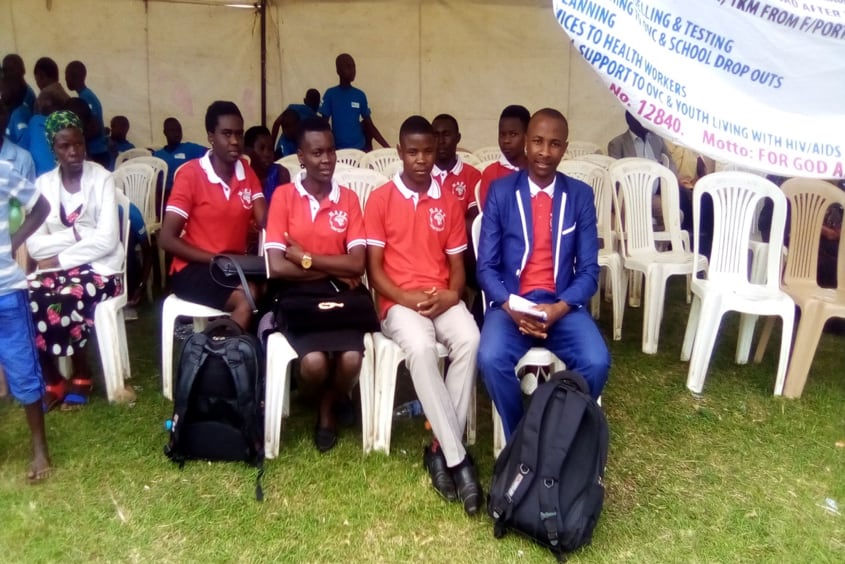 HAFT Team representatives with Rauben Tumuhimbise  (HAFT co-ordinator) At World Aids Day 2019